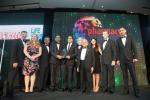 Morningside Pharmacy was awarded the Pharmacy Chain award in the Pharmacy Business Awards 2015 on Wednesday 23rd September 2015.
The announcement was made at an awards ceremony in London, attended by Ben Gummer MP, Parliamentary Under Secretary of State for Care Quality.
The Pharmacy Chain Award is awarded to the best all round pharmacy chain and recognises an exceptional level of patient care and customer service throughout its chain, good management systems and a commitment to on-going staff development.
The judging panel for the awards said this of Morningside Pharmacy:
"It's different, something I wasn't expecting. They are very enterprising. You expect this of the big boys. You expect the larger chains to be geared up like that."
"It's their company profile that engages with staff and gets results."
"They empower their teams to develop their own business strategy to deliver what's right for their local community."
Danesh Gadhia, CEO, Morningside Pharmacy said: "We have been serving our local communities for over 25 years and this is great recognition of what we have achieved over the years. We are thrilled to receive this prestigious award and I want to thank all our staff for the great work they do everyday and to our loyal customers."